This is a sponsored post written by me on behalf of Sam's Club . All opinions are 100% mine.
Winter weather is on it's way and that means treacherous winter driving. We recently had a lot of work done on our car and while that isn't so pleasant, I'm confident that we are prepared for winter driving.
Winter Driving Tips and Tire Event at Sam's Club
We're headed to Minnesota, a 4 hour trip one way, to see our family over the holidays so obviously we want to make sure our car is maintained for safety. No one wants to break down in any season, but especially not in cold or snowy winter weather. Start the winter driving season off right by ensuring your tires are replaced if need be.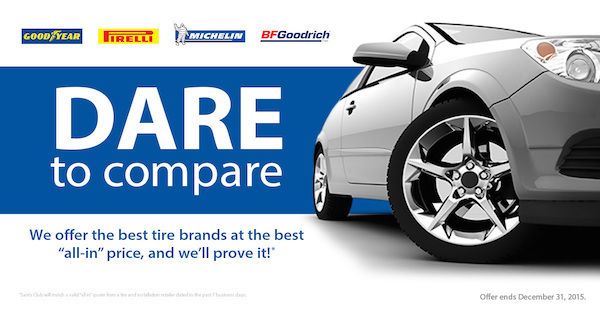 We already rely on Sam's Club for great deals for grocery and household items. I like to buy coffee, fruit, paper supplies, laminating sheets and gifts at Sam's Club. Did you know your Sam's Club membership includes unbeatable winter deals on auto & tire services too? Pull in to your local Sam's Club to get everything checked and new tires before your next winter holiday trip!
Sam's Club wants you to #DareToCompare not only the price of the tire itself but the total package including selection, convenience, price.
"We offer the best tire brands at the best "all-in" price, and we'll match it!*"
Take advantage of Sams Club "Dare to Compare" Offer:
Bring a valid "all-in" quote from a tire sales and installation retailer to your Sam's Club Tire and Battery Center service counter.
The quote must be printed on dealer/retailer letterhead and dated within the past 7 business days.
The tire must be the same brand, same line, same load index and speed rating (service description) as the tire intended for purchase at Sam's Club.
Sam's Club carries some club-specific tire lines – in these cases, Sam's Club will compare the club-specific tire line to the equivalent general-market tire line.​
Best Tire Brands
Sam's Club offers the best tire brands at the best all-in price, matching offer. These tire brands include: Michelin, Goodyear, BF Goodrich and Pirelli. Sam's Club considers the following tire lines to be equivalent and will price match accordingly:
Club-Specific Tire Model
BFGoodrich Touring T/A
Michelin Defender XT
Michelin X Radial LT2
General-Market Tire Model
BFGoodrich Advantage T/A
Michelin Defender
Michelin LTX M/S2
Pirelli
9/18/2015 – 11/30/2015
$80 Instant Savings
BFG
9/25/2015 – 11/7/2015
$50/$70 off set of 4
Tire Installation Package
Not only does Sam's Club offer a fabulous price on tires, but they also include the Tire Installation Package with each tire purchase. The Tire Installation Package makes this deal unbeatable! ($15/tire, $25/dually tire). It pays to check it out!
As long as you are an active Sam's Club member, you also receive these benefits and services with your tire purchase:
Tire Mounting
Tire Lifetime Balancing
Tire Lifetime Rotation
A Value Stem
No Charge Tire Lifetime Flat Repair
24-hour Emergency Roadside Service
* Complete terms and conditions of all Sam's Club warranties and services can be obtained at any Sam's Club Tire and Battery Center location
Where are you headed for the holidays? Is your vehicle winter read? Stop at any Sam's Club and have your tires check out!